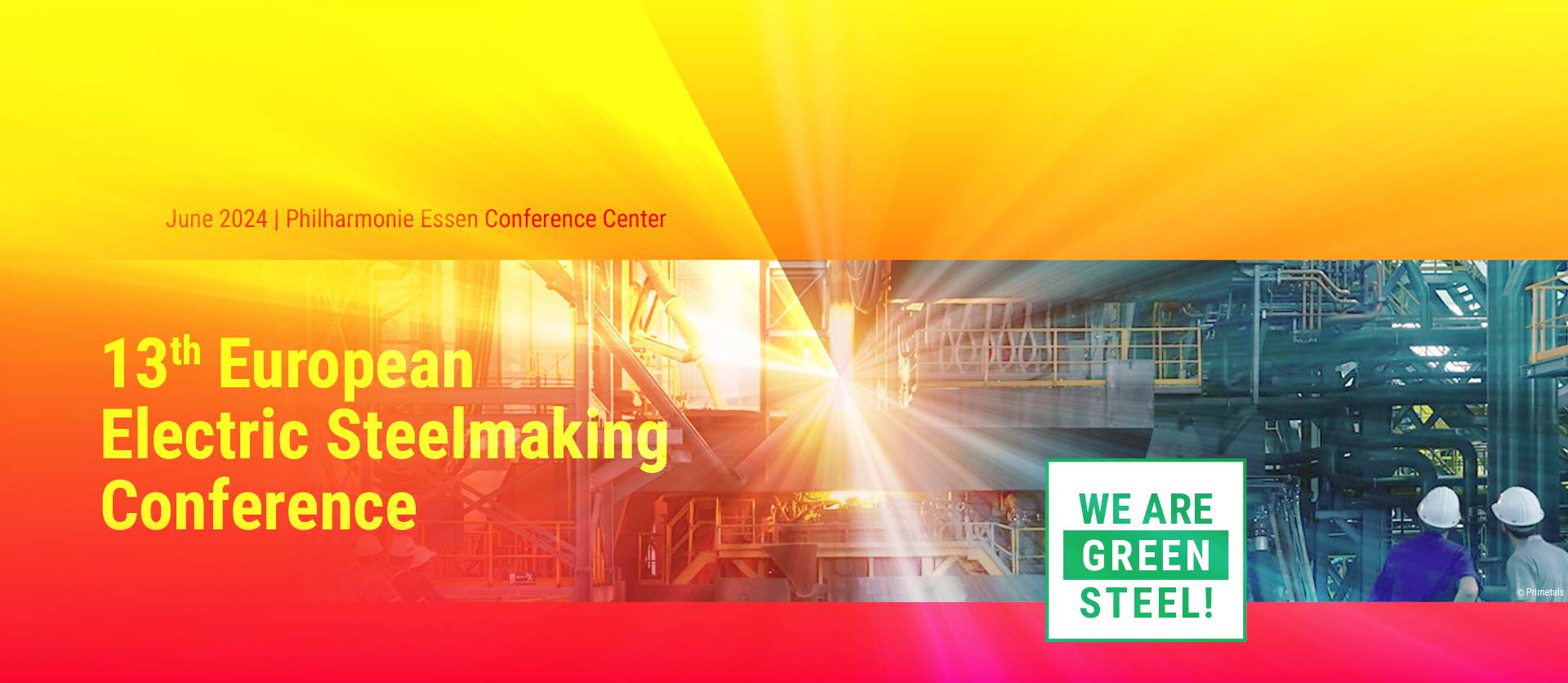 3–6 June 2024, Essen, Germany
13th European Electric Steelmaking Conference 2024
Conference Chair: Prof. Klaus Krüger
13th EEC 2024
The Steel Institute VDEh invented the European Electric Arc Furnace Conference (EEC) and organized it for the first time 1983 in Aachen, Germany. The success of this event has let to eleven following EEC´s 1986 in Florance (Italy), 1989 in Bournmouth (UK), 1992 in Madrid (Spain), 1995 in Paris (France), 1999 in Düsseldorf (Germany), 2002 in Venice (Italy), 2005 in Birmingham (UK), 2008 in Krkow (Poland), 2012 in Graz (Austria), 2016 in Venice (Italy) and 2021 in Sheffield (UK). The 13th EEC will take place from 2 to 6 June 2024 at the Philharmonie Essen Conference Centre.
The elelctric arc furnace is the main process for the recycling of steel scrap to produce widely varying grades of steel combined with the secondary metallurgy processes. It also has a high flexibility in the processing of iron bearing charge materials. It can be operated with up to 100 % DRI or HBI charge. The silver bullet ways to climate neutral steel production are today seen in the process route Direct reduction and electric arc furnace or direct reduction, submerged arc furnace (or open slag bath furnace) and basic oxygen furnace.
The European Electric Steelmaking Conference series is supported by the members of the International Society of Steel Institutes (ISSI)
Scope and Topics
The general aim of this 13th European Electric Steelmaking Conference is to provide a forum at which steel producers, plant manufacturers and suppliers as well as research institutes and universities come together to discuss the newest technologies and developments in the field of electric steelmaking. The conference will have the following technology-based topics:
• Electric Arc Furnace Technologies
• Electric Arc Furnace Process
• Melting of DRI/HBI in Electric Arc Furnaces
• New Furnace Types for DRI/HBI Melting
• Power Grid Requirements and Solutions
• Energy and Efficiency Optimization
• Ladle Furnace Process and Technologies
• Green Steelmaking Strategies
The electric arc furnace is given a completely new function in the CO2-neutral, hydrogen-based
process routes in steel production and will have a new central role. The EEC 2024 thrives on top-notch technical presentations and innovational know-how. The high quality standard runs through all main topics and makes this conference on electric arc furnace one of a kind.
Compliance Rules
The Steel Institute VDEh and all cooperating organizations are committed to adhering strictly to all applicable antitrust laws. Within the context of EEC 2024 it is strictly prohibited to discuss competitively sensitive subjects such as price-fixing agreements or agreements on quantities.